CASTLE ROCK STATE PARK
OVERNIGHT ACCOMMODATIONS
Castle Rock does not have a campground except for a primitive canoe camping area. Access to the area is by canoe or boat only.
Cottages and Cabins
We would like to welcome you to the lodge and cabins at White Pines Inn. Located in Illinois White Pines State Park, there are 385 acres of peace and tranquility waiting for you here, with miles of hiking trails to explore the wonders of nature.
6.2 miles from park*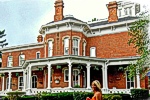 BBs / Inns
Graceful, romantic and elegant, the highly rated Pinehill Inn Bed and Breakfast beckons you with the feeling you are stepping back in time... the Rock River's most elegant oasis combining modern amenities with historic charm.
3.9 miles from park*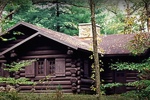 Cottages and Cabins
Located within White Pines Forest State Park in Northwestern Illinois, hidden away in a place that seems like time forgot, discover the historic lodge restaurant, pioneer guest cabins, delightful country gift shop, and entertaining dinner theatre.
6.9 miles from park*